Northumberland SAA Track & Field 2019
County Track & Field Championships 2019- Tynedale Athletics Track, Hexham.
NE46 3PD
Saturday 8 June - 11am to 4pm
Was it wet? - Lewis Cant winning IB 100m Final
Photo by kind permission of David Hewitson - www.sportsforallpics.co.uk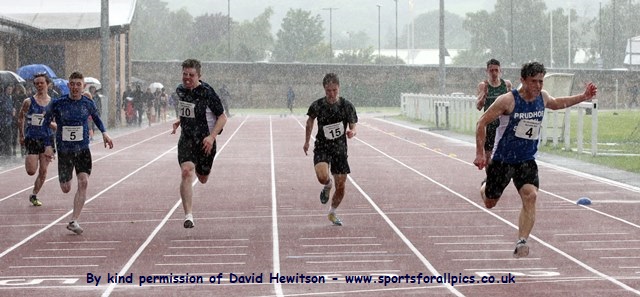 SPECTATORS ENTRY: BY PROGRAMME - £1
CAR PARKING:
Free all day parking is available at the HEXHAM MART only 5 minutes walk away
PLEASE LEAVE A NOTE on your dashboard marked "ATHLETICS"
Wentworth Car Park (next to the track):
WHITE BAYS: Free all day parking and NO DISK required
BLUE BAYS: 4 HOURS parking with DISK
RED BAYS: 2 HOURS parking with DISK (if moving from one to other USE BLUE BAY FIRST)
Competing Districts:
North Northumberland - Tynedale - East - North Tyneside - Newcastle
Entry Inquries: contact - paul.ponton@btinternet.com / 07747 791 732
For event specifications:
TRACK START LIST:
PLEASE NOTE THAT THE ENTRIES SHOWN IN THE TIMETABLES ARE NO LONGER ACCURATE
AND

THAT OTHER EVENTS ARE NOW INCLUDED
POLE VAULT EVENTS ARE CANCELLED because of vandalism to the landing area at Hexham
Specifications: click HERE
RESULTS: click HERE version 2
Age Groups (Boys & Girls):
Junior (Years 8 & 9) - Inter (Years 10 & 11) - Senior (Years 12 & 13)
AN ATHLETE MAY COMPETE IN A MAXIMUM OF ANY 2 EVENTS
ALL ATHLETES MUST WEAR NUMBERS FRONT & BACK ON TRACK, AND ONE AT FIELD
NUMBERS ARE SUPPLIED AT THE MEETING BUT YOU NEED TO BRING 4 SAFETY PINS FOR EACH NUMBER
Junior & Inter, 1st & 2nd PLACES will be automatically selected
to represent Northumberland Schools at the Inter Counties
INTER COUNTIES MEETING
Hosted by Northumberland SAA - Gateshead International Stadium
Saturday 15 June
Start: 12noon (Hammer/Pole Vault - 11.30am)
Athletes should meet 11am at Gateshead and collect kit and numbers from Team Managers
Field Officials are still needed for Saturday - contact paul.ponton@btinternet.com / 07747 791 732
Programme: click HERE
Guests and Seniors taking part will be fitted in and around Inter events
Results: click HERE
Please note that we are only allowed to take 24 athletes to the National Finals in Birmingham.
MINORS -Years 6(5), 7 & 8 - Track & Field Championships - Gateshead Stadium
Saturday 22 June: Start - 10am / Finish - 3pm
Spectators: Entry by programme - £1
Entries will be accepted on the day .... please report to Room 6
Timetable: click HERE
Specifications: click HERE
Ian Severs Award for Best Athlete 2018: Josh Blevins - Y8B 1500m -4m 27.2secs CBP
Updated Results: click HERE
Congratulations to NORTH TYNESIDE on winning the DUNROSIAN CUP for Overall Winners
YEAR 7 TEAM COMPETITION
THIS EVENT HAS BEEN CANCELLED DUE TO LACK OF SUPPORT
BOYS & GIRLS
MONDAY 01 July (NEW DATE)
Wentworth Leisure Centre, Hexham
Start: 12noon / Finish: 3.00pm (NEW TIME)
Entry Form / Info:
EVENTS: Hurdles, 100m, 200m, 800m, 1500m, Relay, High Jump, Long Jump, Shot, Discus, Javelin
RESULTS:
ESAA Track & Field Championships
Friday/Saturday 12/13 July
Alexander Stadium, Birmingham
Info at www.esaa.net